Product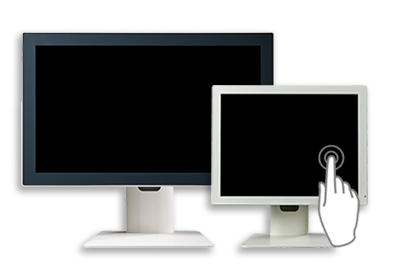 Classic_Medical
The implementation of touch screen technology to affect machine or application control is a leading trend in both the IT and Medical markets. Diva offers a complete line-up of touch displays and touch technologies for almost any human machine interface (HMI). With standard aspect panel sizes of 15", 17", 19" and wide aspect panel sizes of 18.5", 21.5", 24"& 27", Diva's touch displays can be used almost anywhere.
Engineered to satisfy the specific application needs and requirements for embedded use, stand alone solutions or complete system integration with any number of equipment types, Diva's touch displays can be found in thousands of hospitals and laboratories worldwide. Of course, we offer various touch technologies, product variations and customizations upon customer requirement.
Feature
World-class Medical Safety Regulations and Certifications
DIVA medical grade displays meet EN/UL 60601-1 Medical Safety Standards and all relevant electromagnetic compatibility (EMC) rules as well as other established regulations and certifications. Following customer requests, any further safety regulations can be fulfilled.


Life Cycle Management
D/IVA Labs. offers products with longer life cycles to fulfill customer's needs and be worry-free about product sustainability.


Touch Technologies
DIVA touch displays can be equipped with touch screens based on various sensing technologies. Available are: Resistive, SAW and PCAP. DIVA's advanced touch controller designs support multi-touch (up to 10 points), gloved hand touch and provide excellent performance in high ESD and EMC environments (depending on the touch technology chosen).


High Bit LUT
Protective Glass/Acrylic
Ingress Protection
DDC/CI
Adjustable Stands
Fanless Design
Dynamic Scaling