Product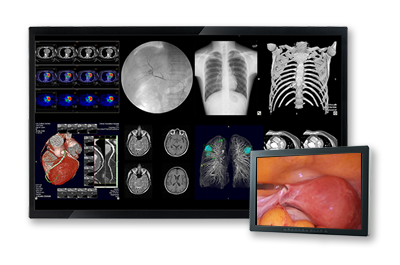 Endo/Surgical
DIVA's Endo/Surgical displays provide the industry's highest quality reproduction of static and dynamic images, delivering true color & real-time video. When equipped with DIVA's Multi-Display-Management System, DIVA offers complete, end user-friendly solutions for Hybrid ORs, Integrated ORs, and control room applications.
Feature
Image Quality
Precise look-up tables (LUTs), powered by sophisticated algorithms, form the core of our image processing. They ensure smooth tonal transitions, accurate mid-tone reproduction and improved border delineation. Experience vibrant red tones and life-like colors across the entire color spectrum.
Digital Uniformity Compensation (DUC) significantly reduces differences in luminance distribution over the LCD panel. With deviations lowered to maximal 5%, thresholds defined by IEC62563-1 and DIN6868-157 are well met. Improve your diagnostic confidence through artifact-free visualization and enhancement of subtle findings.
Certain display models undergo an individual factory calibration. During that process,all important display parameters are adjusted and recorded with sophisticated equipment to ensure a very precise reproduction of gamma and white point according to the chosen OSD settings.
Auto Luminance Stabilizer (ALS)
Hardware Calibration
Full HD/4K2K
Front Sensor
Reliable Operation
Serial RS232 Remote Control 
Medical Ready
Improve your workflow and ease-of-use through User Presets that can be created and saved via the OSD menu for quick recall during procedures. Up to ten presets can be organized to deliver a more consistent viewing experience based on individual user's image quality preferences.
A fanless design reduces the accumulation of microscopic bacteria and dust inside the display and the potential for their dispersion to the surgical field and open back tables. It also contributes to a silent working environment and increases system reliability while at the same time decreasing energy consumption.
AR Protective Glass/Acrylic
Ingress Protection, Disinfection
Cover Guard
Universal Connectivity
Dynamic Scaling
Accessory Power
And More
Each display undergoes a rigorous multistage QA process and is accompanied by a Product Quality Report (extent varies), ensuring compliance with industry standards such as IEC60601-1, EMC, AAPM, JESRA and DIN 6868-157.