Product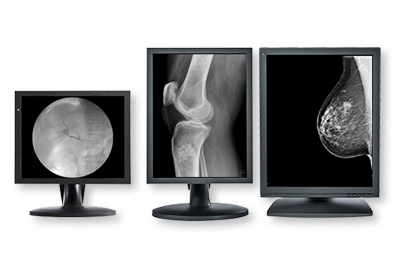 Mono Displays
DIVA's Monochrome Monitors for Radiology and Medical Imaging are specially designed to display organs, tissue, bone and fluid in minute detail, brightness and contrast, providing radiologists and clinicians with the most accurate images for review and diagnosis.
All DIVA monochrome monitors meet DICOM Part 14, AAPM-TG18 and DIN 6868-157 standards and include DIVA's superior Auto Luminance Stabilizer feature which continuously measures the brightness of the back-light. Its sophisticated algorithms compensate for brightness fluctuations during operation before they become apparent. The desired luminance is achieved immediately after system startup and stabilized over long periods of use. With Diva's ALS function, radiologists and clinicians can diagnose accurately and with full confidence.
Feature
Image Quality
Auto Luminance Stabilizer (ALS)
The Auto Luminance Stabilizer (ALS) is based on a built-in sensor and delivers a consistent viewing experience by maintaining the preferred luminance over display lifetime. Moreover,luminance levels are stabilized shortly after system startup.
Digital Uniformity Compensation (DUC) significantly reduces differences in luminance distribution over the LCD panel. With deviations lowered to maximal 5%, thresholds defined by IEC62563-1 and DIN6868-157 are well met. Improve your diagnostic confidence through artifact-free visualization and enhancement of subtle findings.
Hardware Calibration
Front Sensor
Reliable Operation
Streamline your workflow and assure high-quality diagnostic visualization through one touch calibration and reporting of luminance,color temperature, and gamma. The Self Calibration function is OSD driven and negates the need for connecting the display to a PC with accordant calibration software.
Medical Ready
Every diagnostic use display is attaching with a hardcopy of Quality report that contains the result of test options fitting regional accordant standards like DIN-6868157/JESRA.
Dynamic Scaling
Adjustable Stands
Fanless
And More
The presence sensor automatically dims the backlight when the user has left his workplace.As a result, the power consumption is decreased by up to 95%, extending backlight life too. The display immediately returns to normal operation upon sensing user presence.
DIVA Displays are warranted* to perform as intended and to be free from defects in material and workmanship during the warranty period.(*Warranty varies by model.)