Product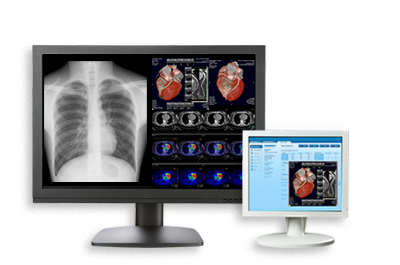 Color Displays
DIVA's Color Displays for Radiology and Medical Imaging offer unique processing ability to faithfully display organs, tissue, bone and fluid in minute detail, providing radiologists and clinicians with the most accurate color and monochrome images for analysis and diagnosis.
These units are designed to meet DICOM Part 14, AAPM-TG18 and DIN 6868-157 standards and reproduce grayscale images with the same clarity and consistency of similar monochrome monitors while also displaying web browsers, PACS user interfaces and other applications in full color. There is never a need to switch displays, saving time and improving efficiency an evolving healthcare landscape.
Feature
Image Quality
Precise look-up tables (LUTs), powered by sophisticated algorithms, form the core of our image processing. They ensure smooth tonal transitions, accurate mid-tone reproduction and improved border delineation. Base your diagnose and evaluation on top-notch image quality.
Certain display models undergo an individual factory calibration. During that process,all important display parameters are adjusted and recorded with sophisticated equipment to ensure a very precise reproduction of gamma and white point according to the chosen OSD settings.
Digital Uniformity Compensation (DUC) significantly reduces differences in luminance distribution over the LCD panel. With deviations lowered to maximal 5%, thresholds defined by IEC62563-1 and DIN6868-157 are well met. Improve your diagnostic confidence through artifact-free visualization and enhancement of subtle findings.
Auto Luminance Stabilizer (ALS)
Hardware Calibration
Front Sensor
Reliable Operation
By means of an ambient sensor, the display luminance can be adjusted automatically to actual ambient light conditions. Improve your viewing experience, even under changeable room light situations, without extra effort.
Medical Ready
Each display undergoes a rigorous multistage QA process and is accompanied by a Product Quality Report (extent varies), ensuring compliance with industry standards such as IEC60601-1, EMC, AAPM, JESRA and DIN 6868-157.
Dynamic Scaling
Adjustable Stands
Fanless
And More
The presence sensor automatically dims the backlight when the user has left his workplace.As a result, the power consumption is decreased by up to 95%, extending backlight life too. The display immediately returns to normal operation upon sensing user presence.
DIVA Displays are warranted* to perform as intended and free from defects in material and workmanship during the warranty period. (*Warranty varies by model.)