News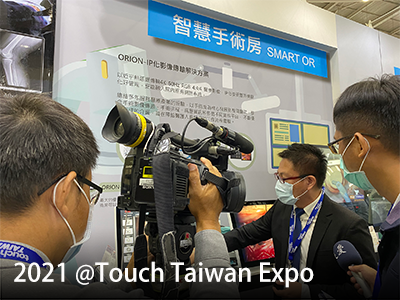 2021-05-12
2021 DIVA@ Touch Taiwan EXPO


April 21, 2021 — The Touch Taiwan EXPO, Taiwan hold on April 21 to 23 in Taipei Nangang Exhibition Center, Hall 1 4F. It attracted 34,711 audiences with 296 vendors. Besides the offline Expo, it holds an online platform that attracts 70,969 views from 61 countries due to the COVID-19.

The smart display zone hold by the Industrial Development Bureau, MOEA(IDB), the main topic covering Smart Transportation, Smart Edutainment, Smart Healthcare, Smart Retail. With themes of Smart Operating room, Diva Optik View presenting the showcase video integration solution among multiple devices and displays.

The OR video solution "ORION", can not only provide uncompressed 4K picture quality but comes with a full operating room integration software while taking control of the OR devices from just a single screen. It optimized for video, graphics, and text quality, the ORION SDVoE AV processor supports both up-scaling and down-scaling for resolutions up to True 4K 60Hz RGB 4:4:4.

With connecting all devices with IP, ORION gets so much easier to manage not only devices but also the surgery schedule, medical record systems like HIS, PACS, and others through multiple spaces such as OR, Digital OR, Hybrid OR or DSA. ORION extension and switching SDVoE chipsets transmit uncompressed, pixel-for-pixel video signals extended over long distances and switched through IP switches with zero-frame latency.

The other UACD solution we presented, is to help with displays that are not able to install calibration software. It would be under lots of restrictive circumstances for most of the image-capturing devices in the healthcare system. However, it's not always used with professional medical displays. This PC-free and easy-to-use UACD solution makes display quality assurance so much easier that is sure to meet the image standard of DICOM.


For more information, check the product below