News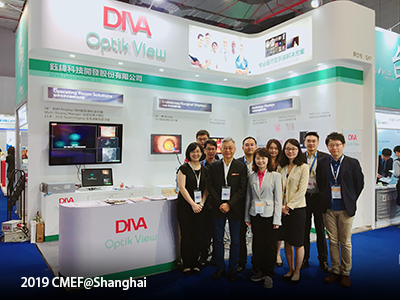 2019-06-06
2019 CMEF in Shanghai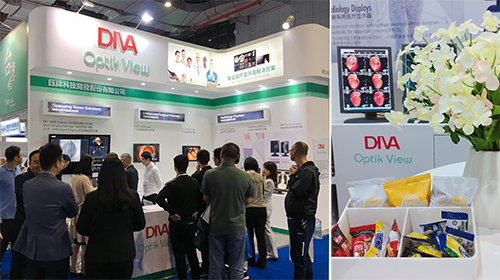 DIVA Labs. (4153: Taipei), a professional medical display manufacturer, presents Optik View, a new series of medical-grade LCD monitor solutions at the largest medical equipment exhibition in the Asia-Pacific region– CMEF (China International Medical Equipment Fair) in Shanghai, China. The exhibition covers a wide range of products including medical imaging, in vitro diagnostics, electronics, optics, first aid, rehabilitation care, medical information technology, outsourcing services, etc., directly and comprehensively serving the entire medical device industry. More than 7,000 medical device manufacturers from more than 30 countries and more than 150 countries, government agencies, hospital buyers and distributors gathered in CMEF for business and information exchange.
In the 81st CMEF, DIVA Optik View presents three main themes: Endo-surgical LCD display, Radiology LCD display, and medical-grade HMI touch display. DIVA Optik View launches the new 55-inch 4K display with HDMI 2.0 & DP 1.2 inputs and MDM (Multi-Display manager) for the hybrid OR, and Cath Labs grabs the most attention. The 55-inch suits entry-level users regarding its compatible price. Along with a 31-inch 4K Endo-surgical monitor that features new 12G-SDI inputs, 27-inch FHD high brightness monitor provides higher contrast than any other competitor. For diagnostic series, the FDA 510K cleared 5MP mono display, with patented self-calibration engines capable of calibrating the monitor without connecting it to a computer. Another product line is the stylishly designed HMI touch display series which also received tremendous discussion too.
The demonstration of the calibration technique is one of the highlights of the show as well; drawing attention not only to the channel partners but also to the modality device manufacturers. Other than customers from China, visitors came from many other Asian countries such as Japan, India, and Southeast Asia countries.  Customers are excited to see and learn about our new 4K 55" monitor and end to end video management solution specially designed for cardiovascular and hybrid OR.